Having taken a vacation to recover from the US's crushing loss to Ghana, it's back to the World Cup. Despite the lack of both England and the US, I am still enamored with the quadrennial football fiesta. The one thing that is missing is a team to support. At the beginning of the tournament, as with Euro 2008, I was into the Dutch. What's not to like? They play flowing soccer that is beautiful to watch. Yet, as the tournament has gone on, the in-fighting in the Dutch camp has left me with a sour taste in my mouth. I just can't bring myself to root for Brazil or Germany. I almost likened cheering for them to cheering for the Yankees, but the Brazilians are eminently more likeable, the Germans marginally so. For obvious reasons Ghana is out. Paraguay just doesn't do much for me. They don't play exciting soccer and they don't have any superlative talents to seduce me. Uruguay has some appeal. They are a plucky country with a strong World Cup tradition (they won in 1930 and 1950). They also sport
Luis Suarez
, the best forward many people have never heard of. Check him out, he was prolific with Ajax and will be the target of a big money move this summer. There is something about Argentina that I like. Is it their crazy
manager
? Their diminutive
talisman
? Or those spiffy
uniforms
? I'm not sure, but they are a close second for me right now. In discussions at work, I think I've settled on Spain. They are fun to watch. Their midfield picks teams apart and
David Villa
is a striking dynamo. Can Spain win? Yes. They are the #2 team in the world and thankfully, they are on the opposite side of the bracket as Brazil.
Netherlands (#4 in the FIFA World Rankings) vs. Brazil (#1)
- 10am, Friday 7/2: It is truly a shame that this match is happening at the quarterfinal stage. This match pits one of the best teams never to win a World Cup against the only team to win on 4 (hoping to make it 5) different continents. Brazil has looked like a machine during the tournament. They easily finished first in the supposed "Group of Death", never really having a problem. They then dismantled a Chile team that was playing some excellent soccer coming into their round of 16 match. While Brazil may not have their traditional flare, they are still fun to watch. They are a tough squad that mirrors their manager and if it is possible with a Brazil team, they are greater than the sum of their parts (which is substantial).
The Dutch marched through their group and swept away Slovakia in the round of 16.
Arjen Robben
returned to provide the spark the Dutch needed and should be a greater contributor against Brazil. (As an aside, does anyone think that Robben is soccer's
Greg Oden
, a man who despite being a relatively young age looks like he's about 50). The Dutch have played excellent defense and but have lacked a little of their traditional attacking flare. What they haven't lacked is their traditional in-fighting.
Robin Van Persie
and
Wesley Sneijder
just can't seem to bury a hatchet that has been around since Euro '08 and this tension has spilled over to the rest of the team. Another question mark is
Maarten Stekelenburg
, the Dutch keeper. He has played admirably thus far, but can he withstand the Brazilian attack?
This match should provide some fun soccer. Ultimately, I think that Brazil's strong midfield and defense (captained by
Lucio
) will clog the field and prevent Robben, Van Persie, Sneijeder and the rest of the Dutch attacking talent from truly opening up the game. I also believe that
Luis Fabiano
,
Robinho
, and
Kaka
will conjure enough magic to break through the Dutch defense.
Prediction: Brazil
Uruguay (#16) vs. Ghana (#32)
- 2:30pm, Friday 7/2: The late game tomorrow pits a team that has been to the top of the mountain (albeit 60 years ago) against Africa's last hope. Uruguay has looked impressive thus far, easily winning its group (thanks in part to an imploding France and a not ready for prime time South Africa). It took a late winner from the aforementioned Luis Suarez to defeat South Korea in the round of 16, but Uruguay had the better of the chances in that game. Uruguay has displayed an attacking style that is fun to watch, and they have two top level forwards in Suarez and
Diego Forlan
.
Fernando Muslera
, who plays his club soccer with Lazio in Italy, has been great in goal. Uruguay will be missing defender
Diego Godin
, due to injury, and will have to find a replacement.
Ghana, as we know, defeated the US in the round of 16 to advance to the quarterfinals. Prior to that, they finished 2nd in what I thought was the toughest group at the World Cup. They were able to make it out of a group that consisted of Germany, Serbia and Australia. Ghana is the lowest ranked team left playing in the World Cup and was the lowest ranked team in their group. The Black Stars have taken advantage of home-field advantage and are receiving the support of the entire continent of Africa. Ghana hadn't scored a goal in the run of play prior to the US game, so scoring for them could be difficult. Asamoah Gyan and Kevin Prince-Boateng will provide the attacking impetus.
This match could be fun, though I doubt it will be as exciting as the early game tomorrow. Ghana's defense and goal-keeping has looked shaky (the US game notwithstanding) and I think that the Uruguayan front line will be able to pick its spots. I also think that Ghana will find it difficult to break down the Uruguayan defense and get a shot past Muslera. Forlan and Suarez will lead Uruguay to its first semifinal appearance in 40 years.
Prediction: Uruguay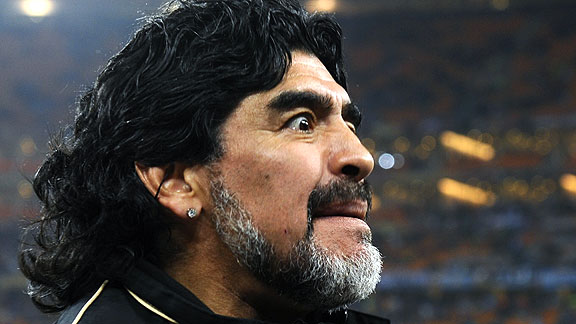 Would you want to mess with this guy?
Argentina (#7) vs. Germany (#6) -
10am, Saturday 7/3:
This match has generated the most off-field buzz, as one might expect when the match includes Diego Maradona. A war of words has erupted between Germany and Argentina that stems from bad blood created at the 2006 World Cup. Germany defeated Argentina on penalty kicks in that game, which was followed by some unsportsmanlike conduct (punches were thrown).
Bastian Schweinsteiger
, one of Germany's most important midfielders, admitted that he has been thinking about the 2006 match and
expects
Argentina to try to stir things up. Diego Maradona, of course,
replied
to Schweinsteiger's comments by donning a mock German accent to taunt the midfielder. Maradona is crazy, who knows what the guy will do next. It is part of Argentina's appeal.
Carloz Tevez
also got in on the war of words stating that he believed
Mexico were better than Germany
(a statement that is clearly false, my US fan credentials aside).
On the field, Germany has been its usual efficient self. Apart from a 1-0 loss to Serbia (partially thanks to a dubious red card), Germany has looked every bit a contender. Disallowed goal or not, Germany demolished England in the round of 16, dismantled Australia in the group stage and eased past Ghana. The side is a mix of new and old, and features some up-and-coming talents that will surely be targets in the summer transfer window.
Mesut Özil
has been a revelation, for Germany in the midfield and
Thomas Müller
has been his equal. These World Cup rookies have been guided along by veterans like Schweinsteiger,
Miroslav Klose
,
Lucas Podolski
, and
Philipp Lahm
. Germany was once again unfancied coming into this tournament but have (as is usual for German teams) stepped up when it matters most.
Just as Germany has looked dominant in their run to the quarters, Argentina has been clicking on all cylinders. Following an uninspiring 1-0 victory over Nigeria, Argentina then scored 9 goals while conceding just 2 over its next three games. Destroying South Korea 4-1, Greece 2-0 and Mexico 3-1.
Gonzalo Higuain
, has been in fine form, and the defense has made a minimum number of mistakes. Lionel Messi hasn't scored yet, but his presence is almost worth as much as his goal scoring. Argentina's mercurial manager has actually made some shrew managerial decisions, and hasn't impeded a stacked team's progression.
Whether Argentina's defense can hold is a question that must be answered. They will face a difficult task against Germany, but I think they are up to it. Argentina will get some revenge for the loss in 2006 and advance to the semifinal.
Prediction: Argentina
Paraguay (#31) vs. Spain (#2)
- 2:30pm, Saturday 7/3: The last of the quarterfinals might also be the least intriguing. Spain should dominate this match, at least on paper. Paraguay has played well throughout the tournament, winning a group that included Italy. Looking back, Paraguay may have won the easiest group in the tournament. New Zealand were up for a match, but certainly aren't that dangerous and Slovakia were never able to regain their qualifying form. Paraguay's victory over Japan was a scoreless affair that required penalty kicks to decide the outcome. Thus far, Paraguay has only scored 3 goals. On the other hand, they have only conceded 1 goal. Paraguay needs to play amazing defense to shut down the Spanish midfield and a great game from
Roque Santa Cruz
or
Óscar Cardozo
if they want to advance.
Following a shocking 1-0 loss to Switzerland in their opening game, Spain has looked like the team that won Euro 2008. They have passed the ball beautifully through midfield, defended well, and David Villa has been his usual goal-scoring self. The one negative thus far has been
Fernando Torres
inability to find the form that made him one of the most feared strikers in the EPL and all of international soccer. I don't think that Spain will need Torres to find that form to win this game. Will they need it to win the tournament? Yes, they will.
My guess is that Paraguay will try to sit back on defense and then counter-attack. This could lead to a rather drab game. I, ultimately, see Spain winning this game after they break down Paraguay's defensive shell.
Prediction: Spain
If my predictions are right, there will be three South American teams in the semifinals, an incredible stat when you think that South America only sent 5 teams to the World Cup. The match-ups would be Uruguay-Brazil and Argentina-Spain. Both games should be fun to watch and the possibilities for the finals are tantalizing. I can only hope that my support of Spain doesn't jinx them the way my support of the US and England contributed to their respective downfalls. Viva La Furia Roja!